About Us
Our Vision
"Become the most customer-centric Marketer in GCC, and sustainably transform the fuel industry into an integrated service hub."
Our Mission
Create a delightful experience for our customers through convenient and qualitative products, as well as integrated and value adding services. We energize your journey with continuous innovations to make it a joyful memory
Our Core Values
Safety
Responsibility
Innovation
Customer centricity
Mutual Support
Employee Engagement
Management Team
Since its establishment in 2003, Oman Oil Marketing Company S.A.O.G. has been a leader in the fuel marketing sector in the Sultanate by providing the highest level of service to its customers, as well as the finest Fuel marketing experience at the highest international standards. Much of the credit goes back to the management team, which is sparing no effort to make Oman Oil Marketing the best fuel marketin company. The management team includes competent and experienced individuals who work hard to achieve the objectives of the company and implement its strategy.

The management team consists of the following gentlemen:
Tarik Mohammed Al Junaidi
Chief Executive Officer (CEO)
Hussain Jama Bait Ishaq
GM National Retail
Khamis Nasser Al Shuaibi
GM Shared Services
Eng. Amer Suhail Jaboob
GM B2B
Talib Omar Al Maadi
GM Supply Chain
Musaab Faris Bingaradi
Chief Financial Officer- CFO
Jaber Mansoor Al Wahaibi
GM - Corporate Planning, Business Development, International Retail and Marketing & Digital
Mohamed Hassan Al Mujaini
DGM- HSEQ and Sustainable Development
Our Brand
Young, energetic and Omani are the three main iconic representations which drive Oman Oil Marketing to further ingraining its values into international practices and local understandings by providing unparalleled levels of service, trust, care and innovation.
Brand Personality
Reliable
Innovative
Engaging
Impact on the Quality of Life
Proximity
Warm
Symbolizing the Company's key ethics, the brand signature is a mark of ownership, leadership and high quality services composed of vibrant and rich colors reflecting omanoil's modernism and velocity in the oil and gas industry.

Color plays an important role in distinguishing our brand image. Conceptually, the omanoil color spectrum represents core elements of The Sultanate of Oman.
Kingfisher Blue is taken from the color of the kingfisher bird and represents the beauty of Oman.
Platinum Shine gives the brand a contemporary and modern look.
White gives a light and clean feel, and contrasts with the rich colors of Oman.
Wadi Green is taken from the lush and vibrant greens of Omani wadis.
Mena Blue represents the sea faring heritage of Oman.
Our Certificates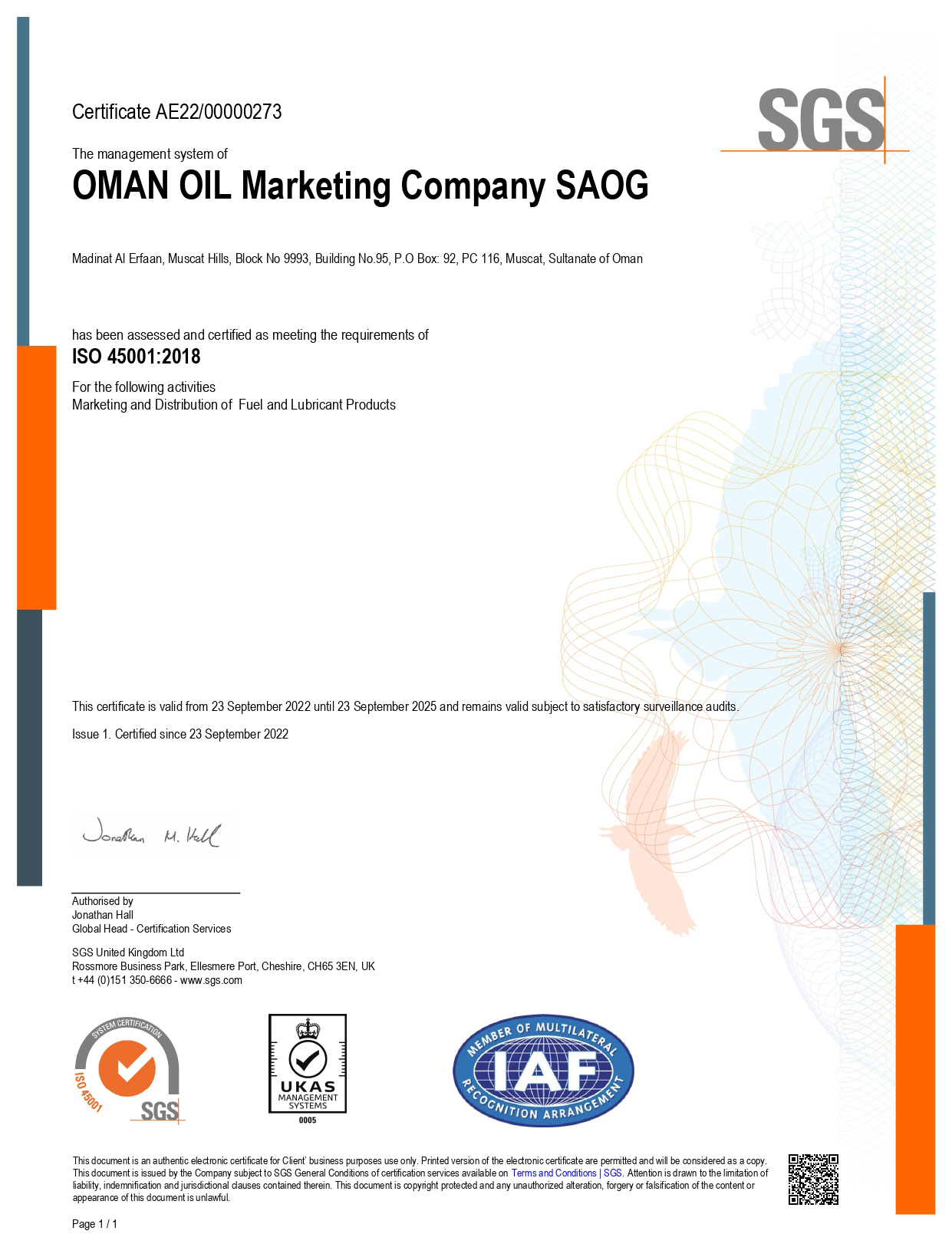 ISO 45001: 2018
Occupational health and safety management system
ISO 9001: 2015
Quality management system
ISO 14001: 2015
Environment management system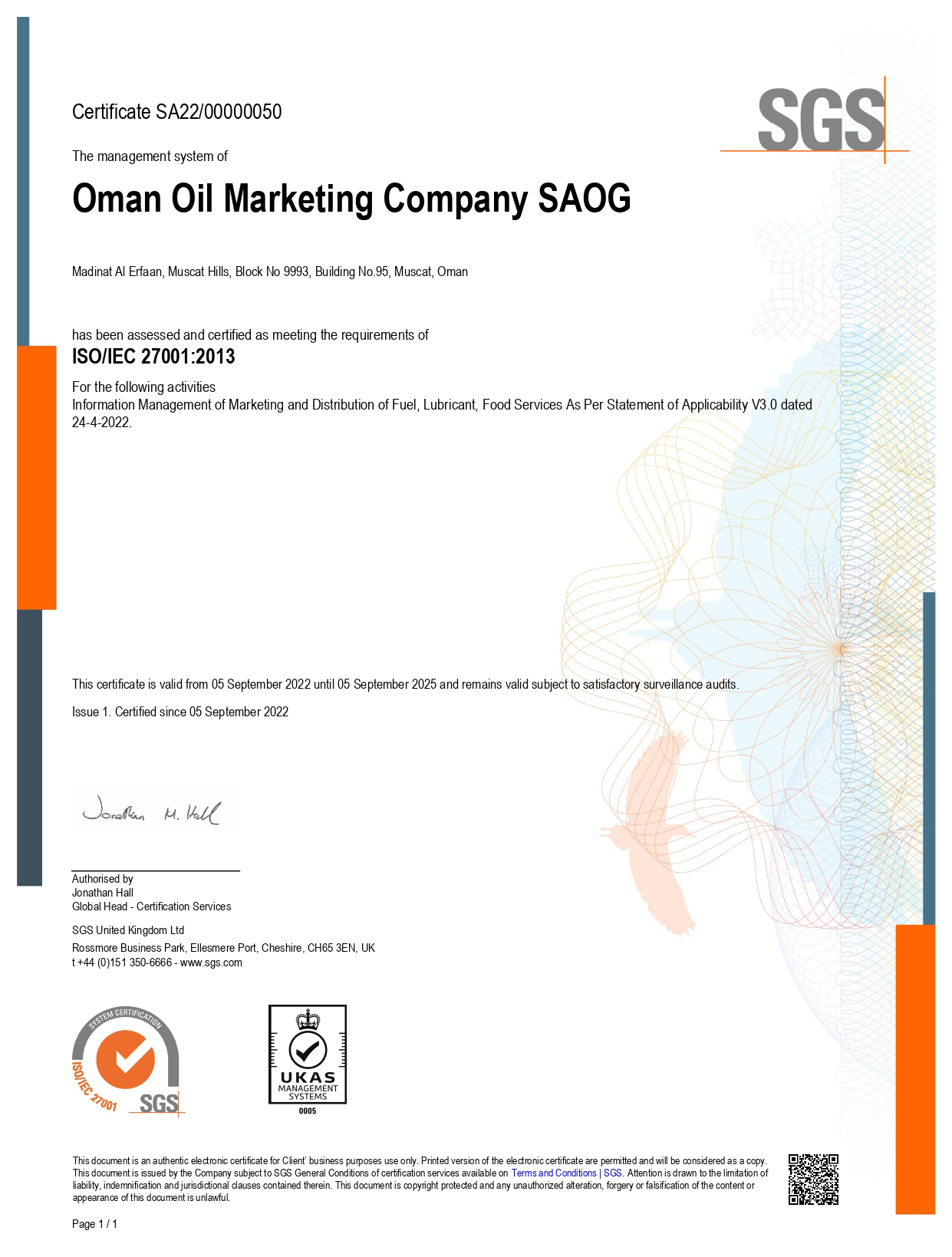 ISO/IEC 27001:2013
Information security management system
ISO 22301:2019
Business continuity management system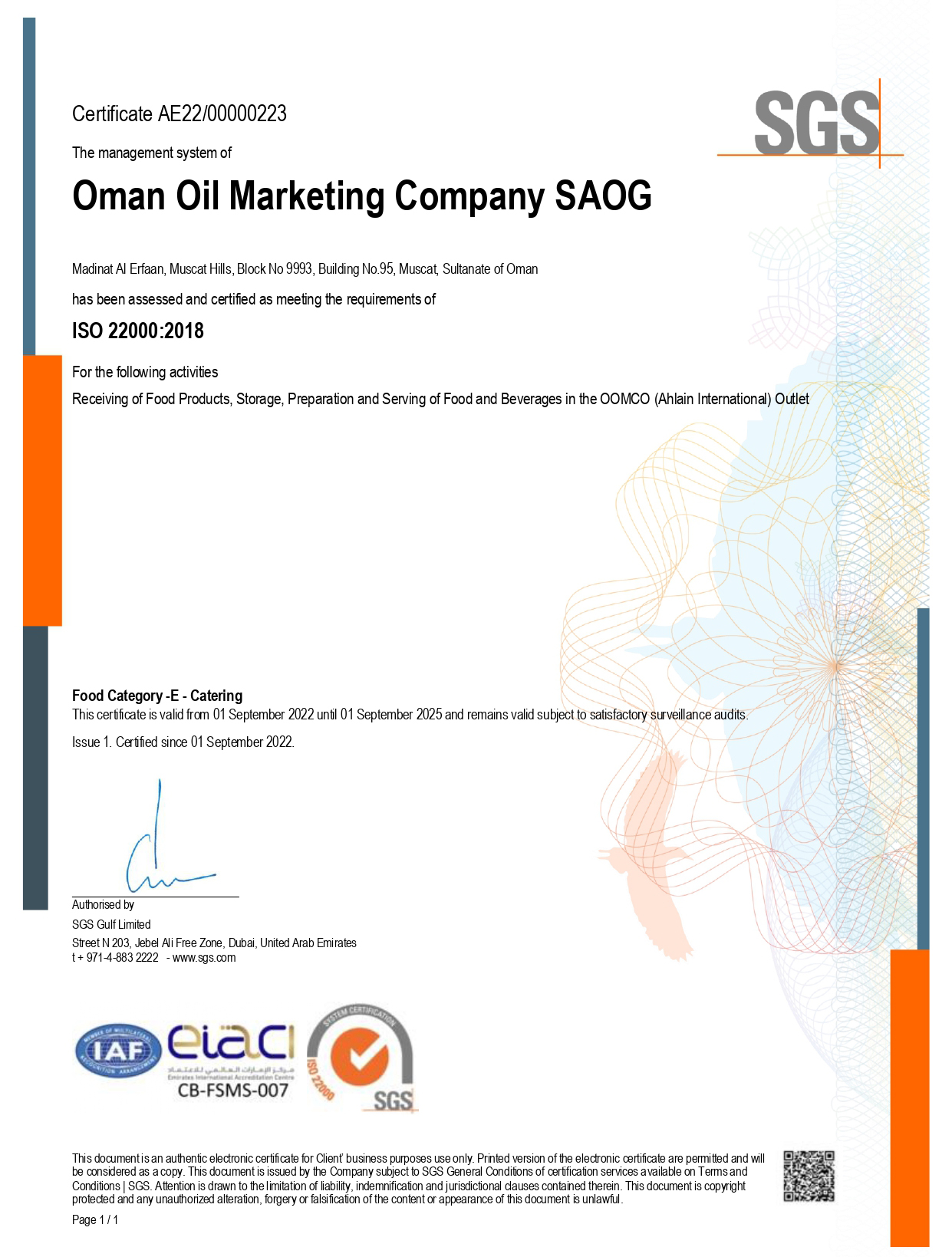 ISO 22000:2018
Food safety management system